I went about my day expecting it to be fully loaded with errands and work. I had no idea that it would end like this. No one did, I'm sure.
While having my nails done, I grabbed the latest issue of InStyle magazine, propped it on my lap and settled in. Checked my phone for updates, and boom- a flood of tweets get my goosebumps running and sending chills down my spine. I found out about the massive 8.9 magnitude earthquake, and soon after, Tsunami, that hit Japan via Twitter. After that, I was on an intense hunt for some live streaming, as I didn't have a TV with me. I never got to read that magazine.
This insane calamity is so surreal, I couldn't get myself to believe it. I pinched myself a couple of times, wishing I'd wake up from a bad dream, but I didn't. It's real. I've been terrified of rain and floods ever since Ondoy happened. To say I freaked out, lost my mind, and totally broke down is an understatement- but THIS is at a whole new level. I can only imagine how the victims must have dealt with this. No wait, its far too difficult to imagine. My mind can't even grasp the amount of trauma they must be in.
Now, a few hours and hundreds of tweets later, I sit in a newly painted room with paint fume levels higher than oxygen, to watch CNN. It's the only room in this house with a telly. And I continue to watch the horror, hope that disaster relief happens FAST, and pray that it doesn't get any worse for Japan and for the rest of the world.
Japan, my heart and prayers are with you. The whole world is with you. Let's all keep strong, and stand together in prayer.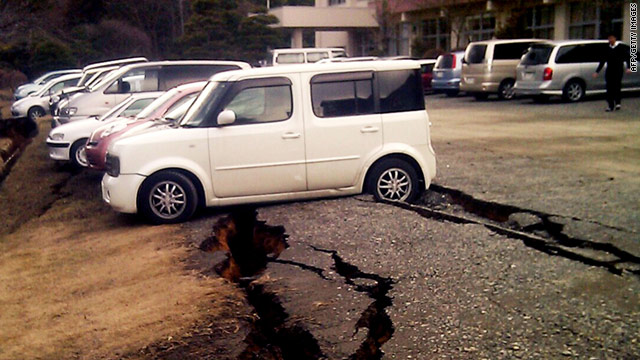 Tweets from Japan:
The BBC's Roland Buerk in Tokyo says: "Buildings swayed… I was in the street, it was like walking across the deck of a ship at sea. People were shocked, some dropped to the ground in fear".
Mike Hall in Hakodate, south of Hokkaido, writes: "We have been really lucky, my apartment was shook up for several minutes and a few things fell over but there was no major damage. It is very much like a swaying rolling motion, with jolts that really put the fear of God in you. Initially, I didn't pay any attention as we've had earthquakes before. But this time, it went on for longer and there were several big aftershocks. Power and water supplies are fine at the moment and cell phones and the internet seem unaffected. But we have a major tsunami warning in effect."
"Damage has been inflicted over a wide area," Japanese Prime Minister Naoto Kan says. "I offer deepest sympathy to people affected by the disaster. Some nuclear plants have stopped automatically, but no information about any leaks of radiation. We ask people of Japan to act calmly."
Natsuki Morikubo, another Tokyo resident, tells the BBC: "Suddenly the ground started to shake and I thought I felt sick or something, but I gradually realised this was the huge one we expected for years."
Jeffrey Balanag, who lives in Tokyo, describes the moment the quake struck. "The building wasn't shaking it was rolling, like a boat on the sea. It was really creepy. It made me very scared," he tells the BBC.
UK Prime Minister David Cameron says the Japanese earthquake is a "terrible reminder of the destructive power of nature. Everyone should be thinking of the country and its people, and I have asked immediately that our government look at what we can do to help."
Shola Fawehimni, who is at Hokkaido's airport in northern Japan, says: "It was a bit surreal. The chairs and the floor started moving and swaying. I wasn't really sure what was going on. Then the building started swaying and I realised it was an earthquake. Some ceiling panels fell down."
Timo Paul, who lives in the ourskirts of Tokyo, writes: "The buildings here seem okay, but we don't have any working water at all, so we think one of the water pipes must have broken. I've also seen an area where it looks as though the cement has liquified. There are some large factories nearby and some are on fire."
The BBC's former Japan correspondent Charles Scanlon says that while the government has set up an emergency task force in Tokyo, it will be difficult for rescuers to get to the affected region. He says: "They problem is they've got to get to this relatively remote area, especially the province of Iwate, to the north of Sendai – an area where we've seen some television pictures showing a town almost completely levelled by the earthquake. It is dark now, it's going to be very cold, it's still winter and snow is forecast."
William Ramsay in Tokyo says: "I've been walking for hours, getting home. The streets are packed with people walking home as there's no transport. I've never seen anything like it in Tokyo. Some of these people will be walking for 20km. The mobile networks are down."